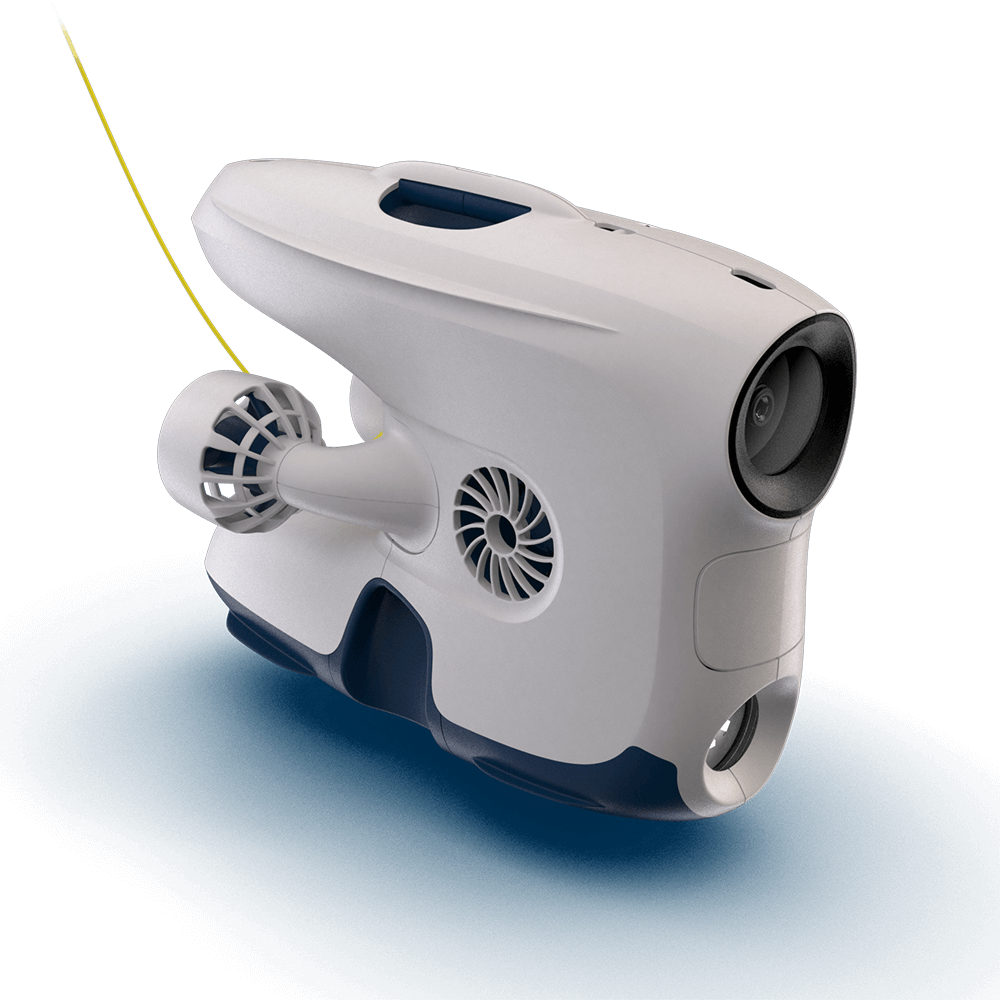 Forhåndsbestill nå
Få 15% rabatt
Begrenset
tilbud
NOK 37.500,-
NOK 31.900,- (inkl mva)
Estimert leveranse 2018. Du kan kanselere ordren din om du skulle ønske det, og få hele depositumet refundert. Resterende beløp betales ved leveranse.
Hva er inkludert
Pioneer Drone
Trådløs overflateenhet (TOE)
75m kabel. (Mulig å oppgradere før dypere dykk)
Blueye trådløs kontroller
Digital dykkemaske for bruk med smarttelefon
Batterilader
Blueye App
Dette er en minimumsliste. Mer kan bli lagt til før leveranse.
Fill in your details below
Teknisk spesifikasjon
Dette er minimums spesifikasjoner. Etter hvert som vi nærmer oss leveranse vil vi oppdatere spesifikasjonene fortløpende.
DRONE

Skrogdesign

Hydrodanmisk og selvbalanserende skrog for stabilitet og ytelse i røffe forhold. Robust plastikk og gummibeskyttelse for beskyttelse mot støt.

Dybde-rating

150 m.

Vekt

Mindre enn 8 kg.

Hastighet

Minst 2 m/s (4 knop).

Kjøretid

Minst to timer normal bruk.

Thrusters

3 kraftige thrustere, 3 x 350 W.

2 bak, 1 vertikal.

Styresystem

Automatisk kurs.

Automatisk dybde.

Kamera

Full HD 1080p/30fps, vidvinkellinse.

Lys

Kraftige LED-lyd under kameraet.

Festepunkter for ekstra lys.

Sensorer

Inertial Measurement Unit (IMU) med 3-akse gyro and 3-akse akselerometer.

Dybdesensor.

Magnetometer (kompass).

Temperatur (på innsiden av dronen og havtemperatur).

Tillegsutstyr

Standardiserte festepunkter på oversiden og undersiden av dronen

Programvare

Mulighet for oppdatering av programvaren på dronen.

Trådløs overflateenhet (TOE)

Trådløs overføring

Wifi-ruter for trådløs kommunikasjon mot mobiltelefon og nettbrett. Flere enheter kan dele opplevelsen av å være under vann.

Trådløs rekkevidde

Minst 30 m.

Kabel

Tynn og sterk kabel optimalisert for bruk av undervannsdroner.

Mulig å bytte kabel for enkel bruk og for å kunne dykke dypere.

Kabellengde

75 m.

Mulig å oppgradere til lengre kabel.

KONTROLLENHET
Håndkontroller

Trådløs håndkontroller for iOS og Android telefoner og nettbrett.

DIGITAL DYKKEMASKE
Maske

Digital Dykkemaske tilpasset alle telefoner

BLUEYE APP
App

App til Android/iOS mobiltelefon eller nettbrett.

Konfigurer & styr undervannsdronen, lagre og del dykkedata, bilder og filmklipp.

ANNET
Lader

Hurtiglader for lading av drone, TOE og håndkontroller.